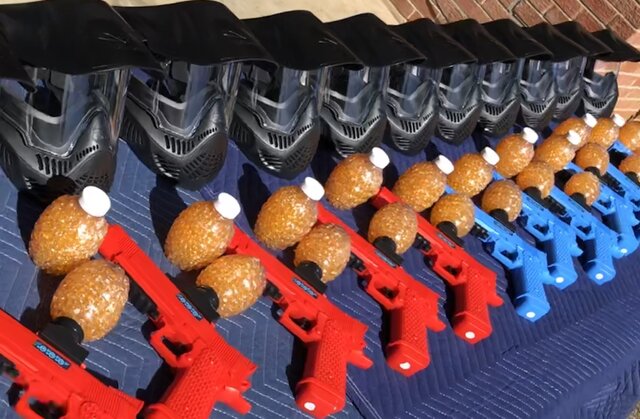 GellyBall 12 Players
Setup Area: It can be as big or small as you want, indoors or outdoors
Age Group: 5 and up




GellyBall is a great ballance between paintball and airsoft as a shooting game, GellyBalls are far less messy and painful compaired to paint ball, also unlike airsoft you dont have the mess of plastic airsoft ammunation all over the place for many years. GellyBall Blasters use a soft polymer gel bead, once hydrated the GellyBalls will grow to its maximum size of 8MM in diameter. The soft water based GellyBalls burst on impact leaving no stain, or mess, there is a small sting, so you know you got hit, when the GellyBalls bursts apart on impact they will quickly dehidrate and go back to the small grain of sand size they were before hydrating, those pieces will also completly biodegrade and is safe for the environment. These GellyBall Blasters are Fun and Unlike Nerf guns, where the players have to constantly reload with recycled ammo, a GellyBall Blaster holds 750 rounds without reloading! Just point and squeeze the trigger and they are that easy to shoot. Simple enough even for 5-6 year olds to use, so now the younger siblings can play with the big kids too, and everyone can have fun! If you are concerned about the sting of getting hit with a GellyBall, we do suggest that the participants, especially the younger ones to wear long sleeves and pants. It feels like getting hit by a nerf bullet at point blank range.
PRICE OF GELLYBALL DOESN'T INCLUDE BUNKERS, YOU RENT THEM SEPARATELY.
Birthday Parties

- Celebrate Your Birthday with a GellyBall birthday parties are the perfect way to celebrate your child's birthday party, no clean up we take care of set up and take down, and you don't have to worry about how everything works we are there for the entire party time.





Group Events

- Group / Church Events are perfect for Mobile GellyBall. Planning an event for youth groups, sports teams, scouts, or any other group event? There is no experience that can be brought to your location that offers your group outing this level of adrenaline rush and overall fun. GellyBall provides fun for boys, girls, men and women alike. But, our most important factor that we bring to any event is our ability to make sure that all of your group members will have fun playing GellyBall.
Corporate Events

- GellyBall is great for team building and leadership development. Whether your company needs to just lett off some steam or whether you are looking to do some team building or leadership development, GellyBall can fulfill those needs.